Marie-Pauline Dessett – Member profile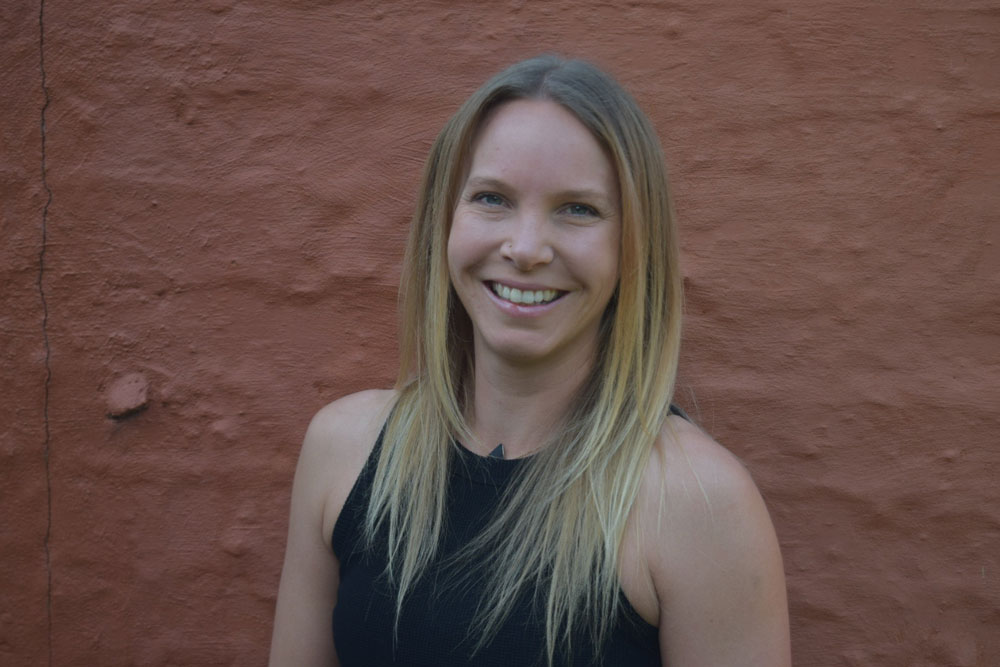 Marie-Pauline Desset is always first to arrive at Coledale WorkLife. Marie needs to start her day early to make the European end of day deadlines for the Belga News Agency. Born in the Southern part of French speaking Belgium, Marie found her way to Australia as a twenty-five-year-old in 2010, where she quickly found a three-month internship at the Belgium Embassy in Canberra. After working odd jobs and backpacking around the vastness only Australia can offer, she returned home only to realise how much she missed her newfound Antipodean lifestyle. It took another six years covering European Affairs and Politics to actively design a Journalism career that would enable her return to Australia (March of 2016), work visa in hand.
Belga delivers 24/7 newswires for radio, TV, magazines and print. It employs one hundred journalists in Belgium and pre-March 2020, four in its Sydney office. Marie and her colleagues monitor and report on national and international news, and when anything is relevant in Australia for a Belgian audience , they report on that also. Marie chats to Jane Fullerton-Smith, our Coledale Community Manager about her much improved lifestyle post relocating from the city, and how she no longer spends hours commuting to and from her much beloved Coal Coast beaches. You will find her instead learning to surf, climbing the bush tracks within the escarpment or practicing Yoga.
What's your local life story? How long have you called the South Coast home?
My partner is Wollongong born and bred. He and I made the Sea Change to the South Coast in February 2020, when we happily exchanged a share house in Redfern and my daily commute to Sydney's Inner West (Rhodes) with a more affordable and nature-based lifestyle. At that time, I was still commuting (to Rhodes) two days a week. There were, at that time four of us at Belga's Sydney press office, which we shared with several other European journalists. In March 2020 Covid-19 soon changed that model for good. Our office was closed, and my entire team returned to Belgium. I was left alone completely. I was the last man standing, living and working from my Thirroul based home throughout the first lockdown.
How does your work/life balance look today? Does it look much different to when you were working in your old office environment?
This new normal has had its upsides for me. My new version of daily life is massively fantastic. Being bound to European deadlines meant my old 5.00am wake-up call is now able to be much more reasonable. My commute to Sydney is no more and my in-laws are just down the road near Gerringong.
As I finish my workday mid-afternoon, and now without the long travel time home, I am afforded the ability to surf which I don't do very well, but love, swim, run or bush walk to the top of Sublime Point lookout, any day I please.
Happily, for me I found an office right on my doorstep with WorkLife Coledale, where I have had a dedicated desk for several months. I certainly miss my journalistic cohort and that professional part of my life greatly but am very pleased to have found a professional environment, with a great community of members, sharing desks and their working lives with
me at WorkLife. There is a great mix of professional profiles which I find interesting as well.
What's your passion project, your side gig?
Until recently, I continued to teach outdoor Yoga to my longtime Rhodes based students. When I started work in near Olympic park/Rhodes, I soon realised there was a lack of Yoga studios available. So, I took advantage of the beautiful Parramatta riverside, in a spot overlooking the skyline and built up a lovely little Yoga community, capturing a certain type of students whom I loved. When I moved down South, I didn't want to let them down, so I carried on travelling there weekly to teach two classes. Then when Covid hit this year, and that area was in serious lockdown, I moved to teaching online. I am passionate about offering my students a social gathering mixed with a movement practice outdoor. I taught a bit on Thirroul beach this year too, however over the winter months it became a little too cold. I like to be warm! So, for now I have stopped, but hope to restart when it warms up a little more and health restrictions allow.
From time to time, I also write for other publications. You may know the prominent French newspaper called Le Monde? Being desk bound writing wires for Belga doesn't always offer me the ability to be analytical in my writing and or to reach out to people or subjects to interview, which I enjoy. I miss the press conferences and the interviews, so writing for Le Monde every now and then satisfies this area of journalism for me, offering a good combination of additional opportunities to my regular job. I also wrote a little book, a couple of years ago now. But for now, on the writing side, it is a little bit on pause as I would really like to develop and evolve more so on the Yoga journey.
Long term, I would like to combine the mindful and teaching side I have learnt in my Yoga practice with my media industry knowledge, how news are crafted and created, in order to help educate people in this field. Currently, a lack of this kind of knowledge makes people prone to believing propaganda and 'fake news' as we say…but I don't really know how yet to do this. In chatting to people, I realise how many are not educated on how and where to
source trustworthy information from and that makes them very vulnerable to conspiracy theories and (how you say) 'fake news'. I would like to help people be more mindful in their news consumption as we try to do in other areas of life.
Picture your bookshelf at home. What's the one book on it that everyone should borrow?
(Laughing)…mine, the one I wrote, of course! It's called 'Australie Un Coeur Chaud Et Sec' (Australia, A Warm and Dry Heart). Warm for the easy going welcoming population and dry in reference to the heat of the land but also the idea that some politics are dry and heartless. For example, the colonial past and the migration policies. But it's in French so that's a hard one, and there is no English translation.
What piece of furniture in your home makes you the happiest?
I guess, it's a bit cliché, but I would say my Yoga mat because since I have been in Australia, I have moved five or six times, so all my furniture is pre-loved / second-hand, and nothing really is sentimental. Oh, except of course, my sewing machine. All my good furniture is still in the basement in Belgium.
What's the one activity you love to do most in and around your local area?
Oh, that is easy. The ocean pools, 100%, yes that is it, swimming in the ocean pools.
What's your go-to listen (music/podcast) for any trips to Sydney?
Well, it's audiobooks and at the moment, it is Sapiens by Dr. Yuval Noah Harari. It is a narrative of humanity's creation and evolution that explores the ways in which biology and history have defined us and enhanced our understanding of what it means to be "human." although the Guardian's podcast The Full Story is really good too.
What's your best productivity hack to get the most out of each workday?
Having a walk or swim before work makes me feel fulfilled. It could be watching the sunshine, a little dip in the ocean or walking the dog
What's the best thing about your membership to WorkLife?
Oh, that is also easy. (Laughing) During the winter…the heating! My house is really cold, so I love that! But also, as I mentioned, the WorkLife community.
Imagine tomorrow is a perfect snapshot of your Best Life. What are you doing?
I have my Australian passport in one hand. It should be coming soon, so that will be great. And I am on the beach, with my partner, my dog and kids. Yes, that is it, for sure.
'Australie Un Coeur Chaude Et Sec' (Australia, A Warm and Dry Heart) — By Marie-Pauline Desset.
An immensity. A world apart. A history of violence shaped by penitentiary colonization whose vestiges are promoted to the rank of national treasures. Australia was born from the madness of navigators lost in the far reaches of the Pacific. It was then necessary for the administrators from Europe to conquer, eliminate, push back ever further its aboriginal people. Australia is a continent of scars whose dry heart has long beaten to the rhythm of the worst of segregation.
This giant country is cut out for adventure. The waves crashing on its shores transform your soul. Its thousands of kilometers of tracks chisel faces, forge characters and give back to the men who borrow them the taste of rediscovering oneself. And now the visitor finds himself on the coast, seized by the passion for the Pacific Ocean and the beauty of its cities. Sydney the indolent. Melbourne more austere. Canberra the severe.
This little book is not a guide. It's a decoder. She (Marie-Pauline Desset) tells, with love, the secrets and the torments of this immense country. A great story followed by interviews with Lyndall Ryan (Australians are afraid to find out who they are), Bernard Salt (Migration defines us) and Linda Burney (The Australian soul is an Aboriginal soul).