Haven Island Oysters – Supplier Profile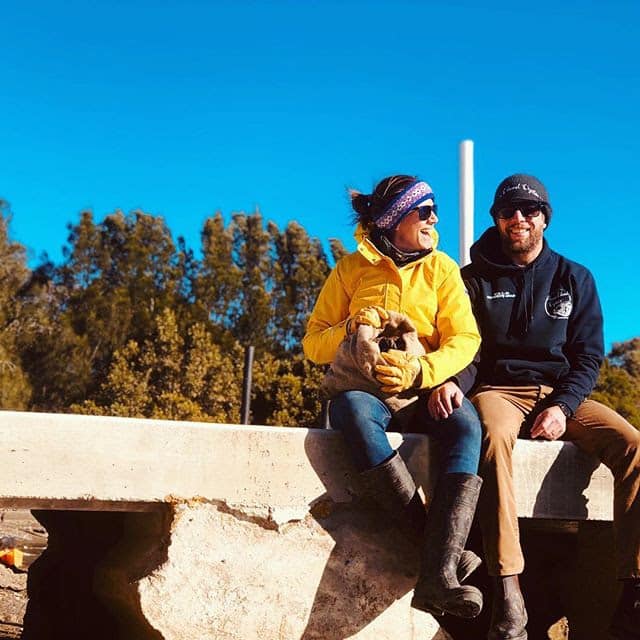 Haven Island Oyster Farm is a small family farm in the Shoalhaven Estuary aiming to grow the best Sydney Rock and Pacific Oysters they can, with the least environmental impact. They handle every oyster multiple times to ensure and promote both shell growth and meat 'fattening' on their water leases in different areas of the Estuary. By finishing their oysters on water adjacent to Comerong Island Nature Reserve over sea grass beds, they have a unique sweet taste. They have only been established for 3 years but already have achieved a Bronze Medal at the 2019 Sydney Royal Fine Food Show Aquaculture for their Pacific Oysters. Haven Island Oyster's main market is their Tide-to-Table home delivery service offered weekly (when in season) for oyster enthusiasts in the Gerringong, Berry, Kiama area. Using their social media platforms they aim to inspire, educate and connect locals about oysters, their vital role in our eco system and the environment they grow them in.
What's your local life story? How long have you called the South Coast home?
We moved in 2017 from the Kimberley, the top of Australia. Primarily for my eldest daughter, we were tossing up between boarding school or we had to move, so we moved. We had been trying to set up an oyster farm for probably 20 years over on the West Coast. But then when we moved we began the process here. So we have called the South Coast home since 2017.
Working for yourself is a journey when did you take that leap?
We met on an oyster farm which is where it all started. I was doing my marine biology degree in England when I met my husband. He was working on an oyster farm. So he was the travelling Australia, and I was the English girl. At the end of 2017 we started talking to farmers, putting bits of water together. it's a bit of a jigsaw puzzle trying to get water and land site and all the things that go with that because you can't farm unless you've got a land site and to get a land site is difficult. It's a case of just talking to people. We would go down South every weekend and talk to people. We'd chat to someone who had a shed they weren't using and then someone who had another piece of water. Most farmers are multi generational, but it's really, really good because there's so much demand for oysters that everyone's happy to share information on how to grow. So you just ask questions, listen, and make your mistakes.
But in February 2018, we put our first baby oysters in the water which was very exciting. That was the first leap I guess, of faith. It usually takes around two to three years for Sydney Rock Oysters to grow. It's crazy, so much longer than anyone ever thinks. With the Pacific's it's nine to twelve months, we're lucky though, there are not many places in New South Wales that can grow both. The first thing we wanted to do was just be able to grow oysters, that was what we wanted for so long. Now we sell to other people.
What was your biggest fear when making the decision to work for yourself?
Well, for me, it was 'Are we good enough?'. 'Is what we put out good enough?'. I don't know if that's the same for my husband. But even just getting an Instagram page, all the social media, and then getting a website, and is it good enough? Is it professional? Does it look good? Is it interesting? All that constant, self doubt. 
What has been the most rewarding aspect of your work?
A connection to customer. So like, what we're doing right now. We've put so much time, work and  effort into what we produce, even down to the labelling of the boxes, the recycling, and what we use down on the Farm. To then have that connection, that is what I love about what we do. Where as opposed to wholesaling, we are able to chat, I took them out this morning, this is what the weather was like, these are the photos and it was amazing. And people appreciate that, which we're so lucky with the kind of customers we have, they care about the authenticity, authenticity of how it's grown and whose harvested them. 
How does your lifestyle/business work for your family?
Easily really, in that we can leave for a week, we can leave for a day, we can work around the farm. It's good in that it's it's not like livestock where I guess with a cow, I think you'd have to be with them every day on a dairy farm. It's like, we can leave them for weeks, they just sit down and get bigger. If the kids have got a carnival Saturday or Sunday, then we just got do that. We can also just sneak out at dawn so we're back before school. I guess with homeschooling it has been a bit of fun figuring it out. So we do sometimes take everyone down to the farm. They work with us sometimes and they do get bored, but my middle one smashes her work early so she can come and do stuff on the boat. So it's really flexible. They can drive bikes and they have their boat licences and they can own shuck oysters. It's given them all those things amd I'm so glad that they're growing up with that, but for them, it's normal.
Working for yourself can be full on, how do you balance it with your social life?
This is a great way to meet people and talk to people and whenever we see people we're like, have some oysters! Our social life is more about our lifestyle. We're heavily involved in the surf club. So if we're not out on the water with the farm, we're usually out in the water with surf club. the kids have their sport also, they're into cricket, AFL and NRL. I think it's just a normal parent social life in that it's basically determines by certain sports and what you're doing.
What is your passion project/side gig that people may not know about?
What I'm trying to work on at the moment is my new thing to do with the farm, which is very exciting! We just got a grant to look at commercially smoking. So my hobby is tribally that at the moment, it's not as easy as I thought it might be. Eventually I'd really like to be able to have people enjoy a glass of wine and on a cheese board there would be our smoked oysters. My vision of what will be is, we'd smoke them and then using Kangaroo Valley Olive Oil to store them in a jar. When we had the bushfires we had all the ash in the water which really affected the oysters, so much that they tasted smoky. So when we were doing samples, they actually tasted smokey because they had been filtering the water. That idea kind of sat and then we had more floods and we couldn't sell any oysters. So it was like well, how do we get a way of preserving so that when we are close to floods, we can preserve them. Then all year round every week, everyone can have oysters!
When people visit the South Coast where is one place they should eat/drink locally?
So straightaway, Smiths Street in Gerringong at the pub. It is like hands down the best food. There's no view there's no decor, the wine list is okay, a bit random, I think. But the food is amazing, and the services from the kitchen is amazing.
What is your weekend wind down recommendation? Book, movie, tv show, podcast, activity. What content should everyone be consuming when it's finally knock off time?
We go to bed early because we usually up at dawn. We go down as early as possible because of the wind. So early bird always works. I have however, just read this book by Clay who owns Bouquiniste in Kiama, 100 Remarkable Feats of Xander Maze. Amazing story. It's a young adult, like Junior fiction, and my girls did a homeschool thing in high school where Clay spoke about it. I thought okay, I'm gonna read that too. I ended up smashing it out because it's just a beautiful story.
Imagine tomorrow is the perfect snapshot of your best life, what are you doing?
I start with a set by row with my with my crew, at bar harbour because then as you go out there at dawn, it's amazing. Then we go harvest oysters, and on the way back, which is something we normally do if it's beautiful, we jump in and have a snorkel on the way back with the kids. So that's what I'm imagining, it's 26 degrees and there's no wind. It's my perfect day. Then we might go pull mud crabs and finish off at sunset with oysters and crabs by the fire with friends.