Member Profile – Jasmin Tarasin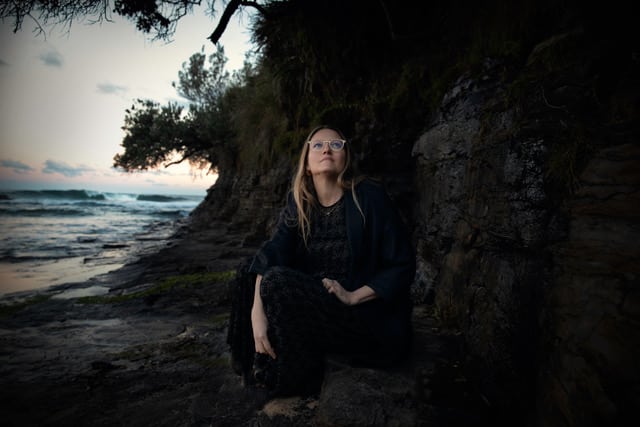 WorkLife Coledale's membership is as diverse as you can get. On any day you can bump into; lawyers, web & graphic designers, physios, architects, journalists, naturopaths, sports marketeers, podcasters, small business owners, big business analysts, computer software engineers, academics and the list goes on. In addition to, and from very early on, and as our delightful 'work family' multiplied, I recognised WorkLife Coledale was surprisingly steeped in 'Creatives'. 
Amongst them, is not one but two highly successful film and television directors. One of which is Jasmin Tarasin. Quietly spoken, projecting a serene personna and exuding a gentle calm. Do not be deceived. Jasmin is a powerhouse within the Australian film and television industry and was recently listed as one of the top five directors worldwide for her commercial work. 
Her award-winning documentary series The Closet Tales, commissioned by SBS, was described by The Age as "a tapestry of beautiful imagery and therein lies the appeal". She also directed a one-hour documentary for ABC1 entitled Utopia Girls, the history of women's rights. This documentary was a finalist at the 2012 national AACTA Awards and the NSW Premier's History Award. 
I for one am watching this incredible storyteller closely. I don't doubt that before too long, she will be a household name. It was my pleasure to chat to Jasmin, (whilst she drove between meetings and dipped in and out of reception) to find out what is next in her playbook and how she manages to balance her 'work life' with all things; family, health, happiness and friends.
Tell me about Jasmin Tarasin – Director, Creator, Wife and Mother
Well….I've been working as a film and television director for about seventeen years. I try to have some sort of balanced life as a filmmaker, a mother of two kids and a stepdaughter. And yes, it's all a bit of a juggle. 
Take me back to the beginning…….
I grew up in Newcastle and belonged to a local youth theatre company between the ages of 12 and 18. We toured and I taught drama to kids throughout my teens. During high school, we would be on tour for two to three months of the school year. We created our own plays, wrote and performed them and toured them to schools or to the general public. Sometimes we performed within arts festivals or across educational platforms.
When I was twenty, I moved to Melbourne after studying painting and photography at Newcastle Univeristy. Then I swapped to VCA (Victorian College of the Arts) – drama school but I didn't finish that. I worked out that I wasn't a very good actor, but it was good to have that training. So I went back to RMIT to study screenwriting and film. Happily and before I graduated from RMIT, I got my first series commissioned from SBS – A four part documentary called 'Closet Tales', a series following the artistic process of well known Australian fashion designers. I spent two years making that, travelling around the world to different fashion weeks and following designers in their daily lives. Because of this series and because I'm a very visual director, I was quickly noticed and picked up by a producer and a production company and started directing commercials.
For the first two or three years of my career as a director, I travelled the world making high end hair and beauty commercials, which was really exciting. But you know, I grew tired of that world and decided I wanted to have a family. 
So, what did I do? I did another documentary for the ABC called 'Utopia Girls' on the history of women's rights. I stupidly thought it would be a little bit low key but I spent my whole pregnancy and the first three months of my first baby's life, creating it. By the end of the whole project, I wanted to call it, 'Exhausted' 
How did you come to be a Coledale local?
Five years ago, after my second child, my husband and I left Melbourne and chose the Illawarra as our new base. I really wanted my children to have a much softer and gentler life. I didn't realise how much I needed to be gentler and softer on myself as well. So I feel like the move here has been beneficial for all of us in that way.
What inspired you to be a filmmaker ?
I'm interested in so many things. My love of the theatre, painting. I was a photographer. I love reading, I love stories. Bring all those things together and you are naturally drawn to what you do as a director. Whenever I'm dreaming up a new project or even pitching a TV commercial, I often think of a painting, or photographic work, or a colour palette from a particular time and of course, fashion. Directing draws on so much that I love, and it is therefore consistently inspiring. All those creative components come together for me on an everyday basis. It's really exciting. I never ever get bored, and I love it…I absolutely love it.
What is, or was your greatest fear when working as a director or working on a new project, funded or otherwise?
I think everyone in the arts has a kind of 'impostor syndrome'. I think I've got it too. In addition to that, the industry is and always has been a male dominated industry. So that's constantly a bit of a battle for me. The other thing, and it has happened to me, is when your heart's not in it, and you realise that you're not seeing the vision. And that can be really scary. You can have a clear concept for a project, and then production gets the better of you. You're having to deal with stupid issues; like the weather, location, cast, client, agency etc and suddenly your vision literally gets lost because you're too busy on other less creative issues. That's happened to me a number of times actually. You lose sight of what you're doing. I find that devastating.
What are you working on right now?
I've always got a few things on the boil. You kind of have to, to get ahead. One project gets up (greenlit or funded), the other one goes down. The main thing I'm working on right now, is the casting of my feature film that I've been working on for quite a few years. It has a working title of 'Jessie'. 
What's Jessie about in 25 words or less?
Jessie is an adaptation of an award winning book called 'The Burial' written by Courtney Collins. Set in 1918, it's the untold story of one of Australia's most famous circus stars, who became, through a series of unfortunate events, Australia's most wanted outlaw. It's her story and is a kind of female Ned Kelly story in lots of ways. 
I'm also in the writers room for a TV show that I created called 'Family Happiness'. I'm writing it with another Illawarra local. She lives in Corrimal. We're creating a near future, sci fi commune in the old coal mine at Coalcliff. It's pretty cool. And we recently did one of our writer's rooms in the WorkLife boardroom. It was great!
What's been the biggest hurdle you've had to overcome in your work to enable a semblance of work / life balance? And what does your work life balance look like?
I think the biggest hurdle for me has been, to work out how to simultaneously be a parent and have the career I have. And in doing so, working out what type of parent I had to be, or wanted to be. Being able to map that out, has been the biggest hurdle. How do you do it all, you know? My solution was to create a technique that worked just for me and not for anyone else. That said, I had a full time nanny in tow for years and wherever I went, because I didn't want the kids away from me. It's much easier now that the kids are a bit older. I also think living where we do, offers me the ability to de-compress more easily. It really does give me space and time to come up with better ideas. I truly believe that. And now that I've lived on the top road (Buttenshaw Drive), surrounded by bush and with the escarpment above me and the ocean below for five years, I can breathe a bit more easily through everything.
Do you have a side gig aside? A passion project? Is there anything else that we need to know about Jasmin?
Back in the day, when I was at art school, I studied herbal medicine at night and became a qualified herbalist. So I'm always treating my family and friends with different potions and lotions. You won't catch me without a herbal remedy on my person. I also practice a lot of meditation. I've lived on Ashrams for six months, so I'm pretty obsessed with those holistic combinations in my life. It has been the biggest gift for my career because I'm constantly exhausted. I know how to treat myself. But it's not really a side hustle because I don't make money from it. I just have it up my sleeve.
I suppose the other side gig I have is, a female directors advocacy group which I run with with the Australian Directors Guild. I run masterclasses in groups and mentorships for young emerging female directors. That's been a big part of my life for the past three or four years. The benefits that I've seen have been amazing and I feel really satisfied to be able to give back.
What is the one book from your bookshelf everyone should borrow?
One of the best books that I've found for my artistic process is Julie Cameron's – The Artist's Way. I love it as a sort of  really beautiful companion to anybody's creative journey.
What are your favourite films? Give me three top three.
I can't do that. But in the last year, I can give you two. I'd say 'The Power of the Dog – Jane Campion and Celine Seamus's – 'Portrait of the Lady On Fire
What's your go to listen to music or favourite podcast when not being interviewed….with no kids in the car?
I go between the film podcast called 'A Treatment'. It's really fantastic. Every week, host Elvis Mitchell conducts in-depth interviews with the most innovative and influential people working in entertainment, art, and pop culture. And I also listen to Esther Perel, I'm obsessed with her. I love all the stories about all the intimate relationships she explores. I've also been listening to Aldous Harding's new album, which is really beautiful.
So, what's your best productivity hack to get the most out of each workday?
That's a real challenge for me – 'productivity'. I'm constantly working on it. I have a creative coach who helps me and every month, I go away by myself for two nights a month to a hotel where I am able to get proper deep work done. And now, coming to WorkLife. It's such a beautiful space, and I don't have to think about cleaning my house. Oh, and when I'm exercising heavily, I tend to get a lot more done at work? 
What's the best thing about your membership to WorkLife?
I think having a calm space to focus where I don't have to clean up after my children. Also just being surrounded by like minded people and the beautiful space and atmosphere that you guys have created. I love it.
Imagine tomorrow is a perfect snapshot of your best life. What are you doing?
I get up early and exercise. I have meaningful conversations with my children over breakfast. I work with the amazing Anousha Zarkesh (Austinmer) casting my feature film. We go to the audition room and do script work with beautiful actors for the day. And to complete the day, having dinner with friends on the back deck. That would be a really perfect day for me.