Member Profile | Anthony Petterson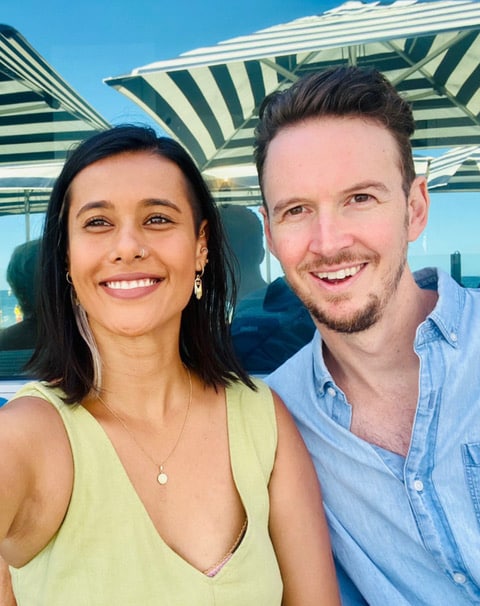 Community Manager Jane sat down with one of our newest members Anthony Petterson for this Member Profile. LinkedIn tells her that Anthony 'brings new products to life through strategic sourcing and product design'. She quickly discovered how he does this and what his upcoming traditional Hindu wedding looks like ( aside from riding in on a horse, being covered in Tumeric and having 4 wedding outfits).
What's your local life story?
I started my design business 'hone.pd' in Melbourne seven years ago before moving to Sydney in 2020. At that time we had a presence and staff in both cities which felt right. Then I met my fiance. She was pretty keen to move to the Illawarra and as I had grown up in the country (Deniliquin), I was open to something a little quieter but not country, country. Sure enough, within a few months of meeting her, she had bought a house down here. We have however only moved down very recently. I only got rid of my Sydney place four months ago.
Tell me about your company. LinkedIn tells me you 'bring new products to life through strategic sourcing and product design'.
I actually have two businesses. 'SupplyWise', in which we Manage Product Manufacturing & Logistics, only launched in March, but we've been offering that service for a few years to clients of my other business. That business, 'hone.pd' I started 7 years ago, designs & engineers products for manufacturing.  It's focused on industrial design and product engineering. Through running the first business, we identified a lot of our clients were new businesses, or individuals who wanted to start a product business, often via e-commerce. So we design products for them. Then, reasonably often, what was happening was, we were getting towards the end of the design process and ready to start manufacturing. And they would come to us and say, "how do we manufacture this"? 
So during the pandemic, when I had time to look into launching it, and after working out that I should do it as a separate entity, we decided to go for it, and SupplyWise launched. The two businesses run as separate companies, but they're complimentary. It's sort of end to end. We can 100% design in one entity, and then 100% supply and manage manufacturing in the other entity.
Our manufacturers are based mostly offshore, but we do both. It just depends on the requirements of the product. We'd like to do more in Australia. At the end of the day, we choose a manufacturer that suits the needs of the customer best. One of the first things we do is set the criteria, the decision making of what are the important elements to this person, to this customer. That might be lead time, more volume, capability obviously. And then the other things like ethical treatment of employees, or sustainability credentials, what materials they can use, things like that. And then depending on what those are, usually drives who we can get to make the product appropriately.
What is your most favourite product? Fun, exciting, groundbreaking or world changing?
The most fun ones, or the most interesting ones are when you have a tricky route or mechanical type problems to solve. And when you get to ideate solutions on how to make that happen. One that comes to mind, which I think is probably a classic example of 'so not sexy', and you may think it sounds so boring, but probably just highlights my point, is a soap dispensing system for a commercial cleaning company that has a mechanical timing mechanism. It can slow down and speed up how quickly it dispenses liquid. It also has systems that allow them to be self sealing and things like that. It's mechanically done using gravity and air pressure. 
But I'm also a bit of a nerd who likes to assemble their own watches and stuff like that as a hobby. So for me the process of getting data to asking 'how the hell are we going to make this work' is exciting.
 Starting with heaps of different ideas and firstly working out most are never going to work. Then we step by step we go through the process of trying to make the idea work. That's the most fun. 
 What's your passion project, your side gig?
Aside from the upcoming wedding which is all consuming we now have a nice big double garage. And the thing that I've been really enthused about, is spending my time satisfying my OCD by getting all my tools onto shadow boards. I know exactly where they all are and exactly where they go. 
(Jane – sighs enviously)
And then there's my partner, she's the same and does the same in my wardrobe. All the hangers match and everything is colour coded. She's fantastic.
(Jane sighs enviously….again)
Picture your bookshelf at home. What's the one book on it that everyone should borrow?
Most impactful for me of late? One is about the learnings of stoicism, but applied to turning any adversity into an opportunity. It's 'The Obstacle is the Way' by Ryan Holiday. It's pretty useful for negotiations and a different way of thinking about challenging things that turn up in your life and business. It helps me frame things differently. It's not targeted for business specifically, but still very useful. I've found that really awesome. 
Then there's a guy called Ray Dalio, who's very famous and one of the world's most successful investors and entrepreneurs. In his book 'Principles',  he shares the unconventional principles that he's developed, refined, and used over the past forty years to create unique results in both life and business – and which any person or organisation can adopt to help achieve their goals. It's a great reference book to have on the bookshelf when needed.
What's your favourite piece of furniture at home?
It has to be your bed, right? I heard someone recently say, "don't compromise on your bed or your shoes, because if you're not in one, you're in the other".
Tell me a bit about your upcoming wedding. It sounds incredible.
My partner, Surbhi is Indian born but moved with her immediate family to Australia when she was five. Her extended family still live in India and her Dad, now retired, goes back for up to six months a year. Therefore, she has strong ties to her heritage and culture. As a result we are having a full on, very traditional Hindu wedding in Chandigarh, a few hours north of Delhi in November. It will be huge.
The wedding celebration takes place over three days – November 23,24,25. There's the ceremony where you walk around the fire. The ceremony where I ride in on the horse and everyone dances around me. There is the day when Surbhi is painted with Henna and the day where we are covered in turmeric. It's a lot! The wedding dress or outfits are unbelievable. Last count, I have four and she has five completely different outfits. Hers are incredible. The amount of embroidery alone is mind-blowing. My fashion estimate is that one of her skirts weighs around 15 kilos. Then she has the nose ring and all the jewellery that is attached to the head dress. It's just amazing!
This will be followed by the Australian version in Canberra on December 11. It has less costumery, but again lots of people. I think it's because we're a bit older? We haven't invited any kids but it's still pretty large. Way more relaxed than India but it's all pretty cool. We're so excited. I'm so excited. 
What's your best productivity hack to get the most out of each workday?
I would have to say, I'm not very good at that. Honestly! But in short, if I get up at five in the morning, I find that I do my best work. If I action my most important things before anyone else starts, there are less interruptions. So I guess by prioritising what's most important, around an early start is my hack. Caveat!!! I don't do it all the time. 
What's the one activity you love to do most in and around your local area?
I'm new to the South Coast, so I don't have a lot of experience yet. That said, I need to give a shout out to a great day we had a few weekends ago at the Wombarra Bowlo. The perfect relaxing afternoon, the escarpment behind us, the ocean in front of us, eating good food and sipping on cold beer. We're looking forward to more of that over Summer, post wedding and when our lives have settled down a bit.
What's your go-to listen (music/podcast) for road trips?
It's definitely Podcasts for any road trip. And there's probably two of late. Tim Ferriss – The Tim Ferriss Show. It's an Entrepreneurship Podcast. He is also the author of the bestselling book 'The 4-Hour Workweek. He interviews all sorts of amazing people and describes it as, "top performers in any field'. From sports people to Astronauts…you name it, he interviews them. The other one my partner introduced me to on holiday, two weeks ago. 'Serial' is all about serial killers. And yeah, well, you know, it's great. Crazy people doing crazy things, what's not to like. I'm listening to season two of that at the moment. 
What's the best thing about your membership to WorkLife?
I'm a recent addition to WorkLife but so far, I'd have to say the best thing is my productivity. And then the network of people. It's a great mix of professional people who've been very friendly. No one gets in anyone's way. 
Imagine tomorrow is a perfect snapshot of your Best Life. What are you doing?
That's a question I've had to ask myself a fair bit lately. It's pretty simple actually. It doesn't have to be anything flashy. A great day for us is when we have nothing we have to do. It's just having enough time, without any commitments, to actually enjoy the weather and the local area with my partner. We've been so busy with work and wedding plans lately but have been really happy, in general. To casually go for a coffee in the morning and then to be able to hang out in the yard being those 'Nesting' kind of people, is great. What's not to love about the Bowlo and Resin for a beer. So in summary, having time to be ourselves at home, and in the local area, ideally when the sun's out, is our snapshot of perfection.